Did you say SEX?
Did you say SEX? is a tool for youth workers (12-17 years old), that facilitates the discussion on broad themes related to intimacy, seduction and romantic relationships.
This tool encourages youth participation through their interpretation of the different image cards to initiate the discussion on different themes and support development and critical thinking in teens from 12 to 17 years old.
Types de cartes
On your mind
A card to remind your young people of the basic principles of a respectful discussion, free of sexism, racism, homophobia, etc.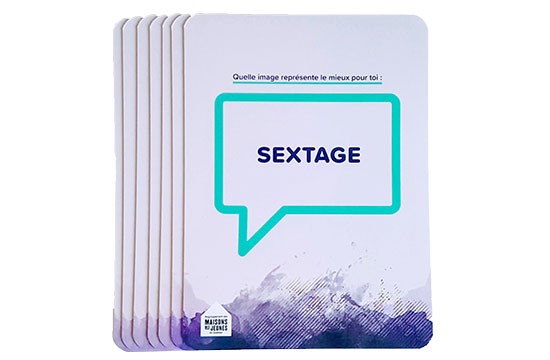 Themes Cards
Through 21 themes, you will explore a wide range of topics related to the new socio-sexual realities of young people, ranging from communication to the concept of consent, through romantic relationships and harassment. Each theme card includes a short definition, stimulus questions for the discussion and a key message to remember.
Explanatory cards
Through 5 double-sided cards, you will find the explanations and recommendations of the creators of the tool to use it fluidly with your teenagers.
Images cards
Includes 4 lots of 12 abstract images, to allow young people to find the theme discussed in the smallest detail or in the whole image found on the card and thus present their interpretation and understanding of it .
Pour commander le jeu As-tu dit SEXE?
25 $ taxes incluses par jeu + les frais de livraisons.
Modalités de paiement : Par chèque ou virement bancaire dans les 30 jours de la réception de la facture.
veuillez remplir ce formulaire.